The new generation is even more compact, lighter, more powerful: Thermo-bug® 2.0
To avoid thermal overload, the connection housing with all of the operating elements was repositioned under the radiator.
More stability thanks to double-walled load-bearing parts.
All-round perforated contact protection to the heating tube.
Temperature measurement in the room through a connectable, flexible temperature sensor.
4 composite ceramic feet ensure a safe, temperature-resistant standing.
Comfortable plastic carrying handle reinforced with an integrated metal strip.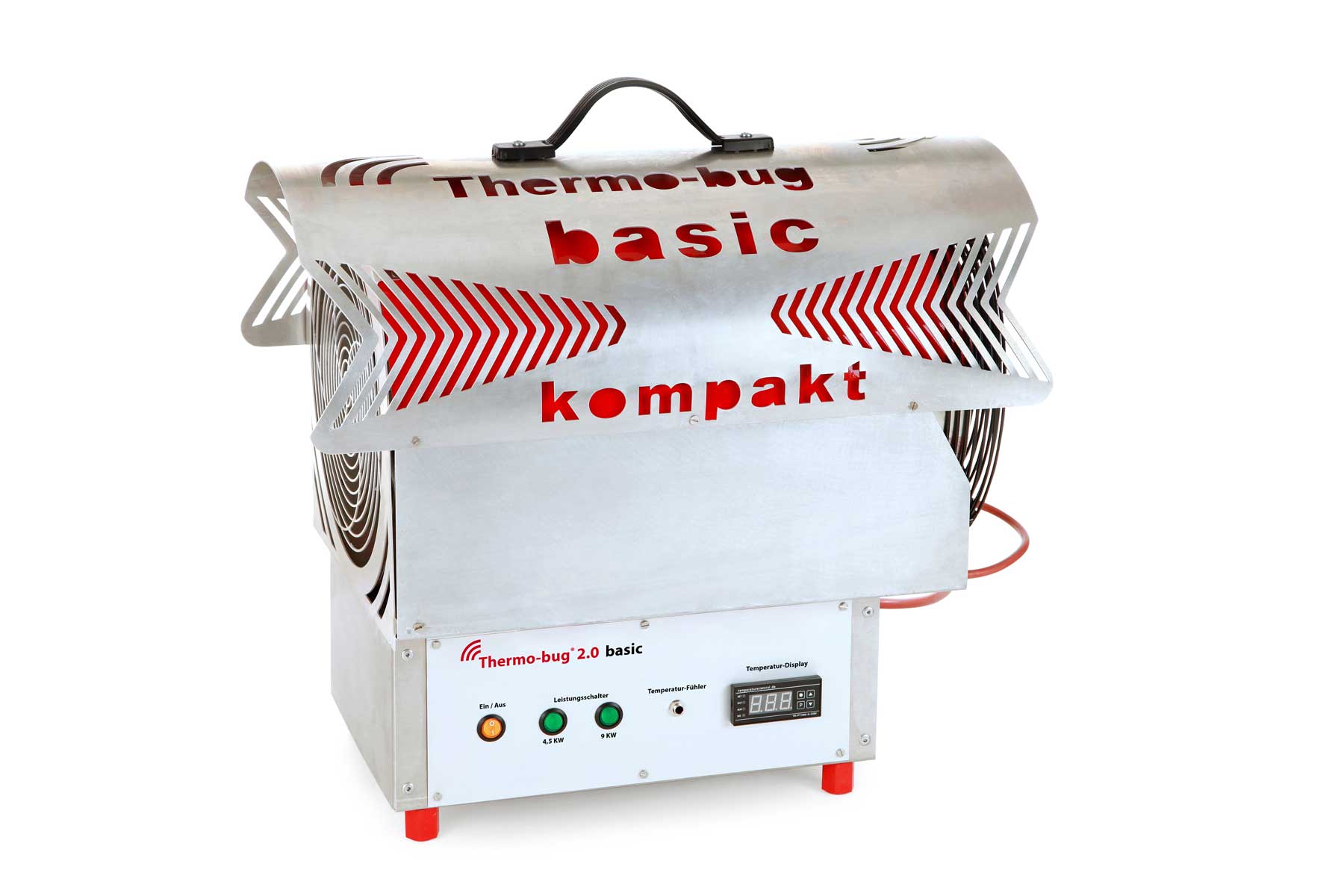 Basic device for disinfestation up to 60 °C.
Thermo-bug® basic is delivered as a fully functional unit, incl. operating instructions.
Product characteristics / features
Main switch (on / off)

Circuit breaker for 4.5 KW (half power)

Circuit breaker for 9 KW (full power)

Plug-in external temperature sensor with 4 m cable

Temperature display with adjustable temperature

230 V socket for the Thermo-bug® airblower with 4A fuse

High performance fan for high temperatures

Protection against overheating with automatic reset

Very quiet operation, only 53 dB n air conversion 1800 m3 / h

Housing protection IP54

Easy handling due to low weight (15 kg)

CE labelling and tested according to EMC guidelines
Voltage

3 x 400 V
Power
4,5 / 9 KW
Max. mains current
16 A
Housing protection:
IP54
High-performance fan:
ø 300 mm, 1800 m3/ h
Noise level
53 dBA
4 temperature sensors
0°C – 60°C
Safety thermo­stat (ST) limiter with automatic reset
80°C
Weight
15 kg
Dimensions
Length: 593 mm
Width: 340 mm
Height: 510 mm
Do you have any questions?
If you have any questions about our products, want to make an enquiry or want to be informed, as soon as further products are available, please contact us! We're happy to help.