Work with the best pest control ever.
Even more accurate, independent monitoring circuits and sensors for even safer working
Test button for testing the safety circuits
Safety circuit with fan monitoring
Very quiet operation, only 53 dB
Circuit breaker for 4.5 kW (half power)
Circuit breaker for 9 kW (full power)
Operating elements under the heating element
Greater stability thanks to a more stable housing
Heating pipe with all-round contact protection
Temperature measurement in the room as a result of the integrated temperature sensor
4 composite ceramic feet for a secure stand
230 V socket with 4A fuse, for additional fan
High performance fan for high temperatures
Microprocessor-controlled temperature regulation
Digital precision temperature sensor
Safety shutdown in case of overtemperature
Control programme with integrated programme sequence monitoring
Fan failure monitoring
Fan blockage monitoring
Test button for testing the safety circuits
CE labelling and tested according to EMC guidelines
Continuous monitoring of the safety-relevant parameters by independent circuits
Product characteristics / features
From a very functional point of view, the new Thermo-bug® basic 3.0 is also a heater for generating warm air for use in the field of pest control.
But only from a very objective point of view. And of course ambitious, Swabian Thermo-bug® engineers are not satisfied with this. With 52.5 dB, the new Thermo-bug® Generation 3.0 is as quiet as never before. The new housing has been made more stable than ever before as a result of double-walled supporting parts. To avoid thermal overload, the connection housing with all of the operating elements was repositioned under the radiator.
The heating pipe was provided with a perforated contact protection all around. The temperature measurement in the room is now carried out by an integrated temperature sensor. 4 composite ceramic feet ensure an even more secure and temperature-resistant stand. The comfortable plastic carrying handle has been reinforced with an integrated metal band and made even more durable.

The appliance has a microprocessor-controlled temperature regulator with a digital temperature sensor. The sensor is positioned on the air intake side. The use of a digital precision sensor means that no subsequent adjustment of the controller is necessary during the lifetime of the appliance.
The measuring interval is 1 measurement / second. The correct functioning of the control programme is continuously monitored by an integrated programme sequence monitoring system.
A failure or fault affecting the temperature control system leads to an immediate shutdown of the heaters. The temperature of the appliance is continuously monitored by an independent safety circuit. If the temperature of the appliance is higher than 80 °C on the air intake side, this leads to a safety shutdown.
In addition, there is an electromechanical temperature safety switch on the output side of the appliance, which also switches off the appliance if a certain temperature is exceeded.
The function of the built-in fan is controlled by a monitoring circuit. A failure of the fan due to a blockage and/or sluggishness as a result of foreign bodies that have been sucked in or age-related wear is detected and this leads to a safety shutdown. The unit is designed in such a way that there is no automatic restart after a power failure or after a safety shutdown.
Discover how easy it is to use the new Thermo-bug 3.0 basic
An english translation will be available soon
| | |
| --- | --- |
| Dimensions | Width: 670 mm, Depth: 330 mm, Height: 600 mm |
| Weight | approx. 19 kg |
| Operating voltage | Three-phase current 3 x 220 – 240 V / star circuit |
| Rated voltage | 400 V, 50 Hz three-phase alternating current with neutral conductor |
| Rated power | 9000 kW |
| Operating voltage input / mains connection | CEE built-in plug 16A |
| Heater output (switchable to two levels) | Level 1: 4.5 kW | Level 2: 9.0 kW |
| Power without heating (air circulation) | approx. 90 kW |
| Electrical safety | Safety class Ι |
| Setting the control temperature | 30 °C – 70 °C, in increments of 1 °C |
| Control accuracy | +/– 0.5 °C |
| Measuring interval | 1 second |
| Fault detection time | < 2 seconds |
| High-performance fan |  300 mm, 1800 m3/h |
| Noise level | 52,5 dB |
| 1 internal temperature sensor | 0 °C – 80 °C |
| Safety thermostat (ST) automatic shutdown | at 80 °C (Additional independent electromechanical temperature safety switch) |
Do you have any questions?
If you have any questions about our products, want to make an enquiry or want to be informed, as soon as further products are available, please contact us! We're happy to help.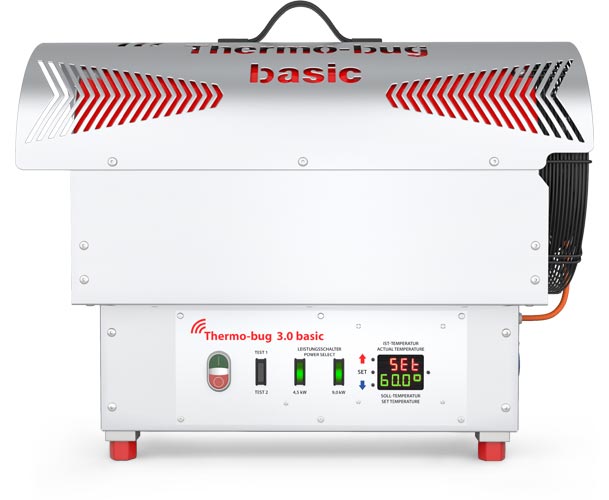 Basic device for disinfestation up to 60 ° C.
The Thermo-bug® basic is delivered fully functional, including operating instructions.